 COVID 19 UPDATE
Updated 16/12/2021: CLUBS OPEN TO VACCINATED MEMBERS
Members will not have access to our Clubs until their double vaccination certificate has been sighted by staff in accordance with Victorian Government regulations.
This is a regulation enforced by the government, and will be reviewed on the 12th January. Any poor treatment of our staff will not be tolerated.
We thank you all for your continued understanding and support.
Contact us at info@clubaquarius.com.au
STAY FIT AT HOME WITH THE CLUB AQUARIUS TEAM
We already have over 70+ classes uploaded in our online Content Library, and uploading more live-filmed classes daily.
Access our Online Pass for just $6.95 per week
www.clubaquariuswellness.punchpass.com
Powered by passion and motivation.
Equipment to suit all your individual needs.
Flexible/non-contracted membership options.
Achieve Your Fitness Goals
Sign up today or renew your membership. We have packages to suit all fitness levels
Group Fitness Timetable from 3rd May 2022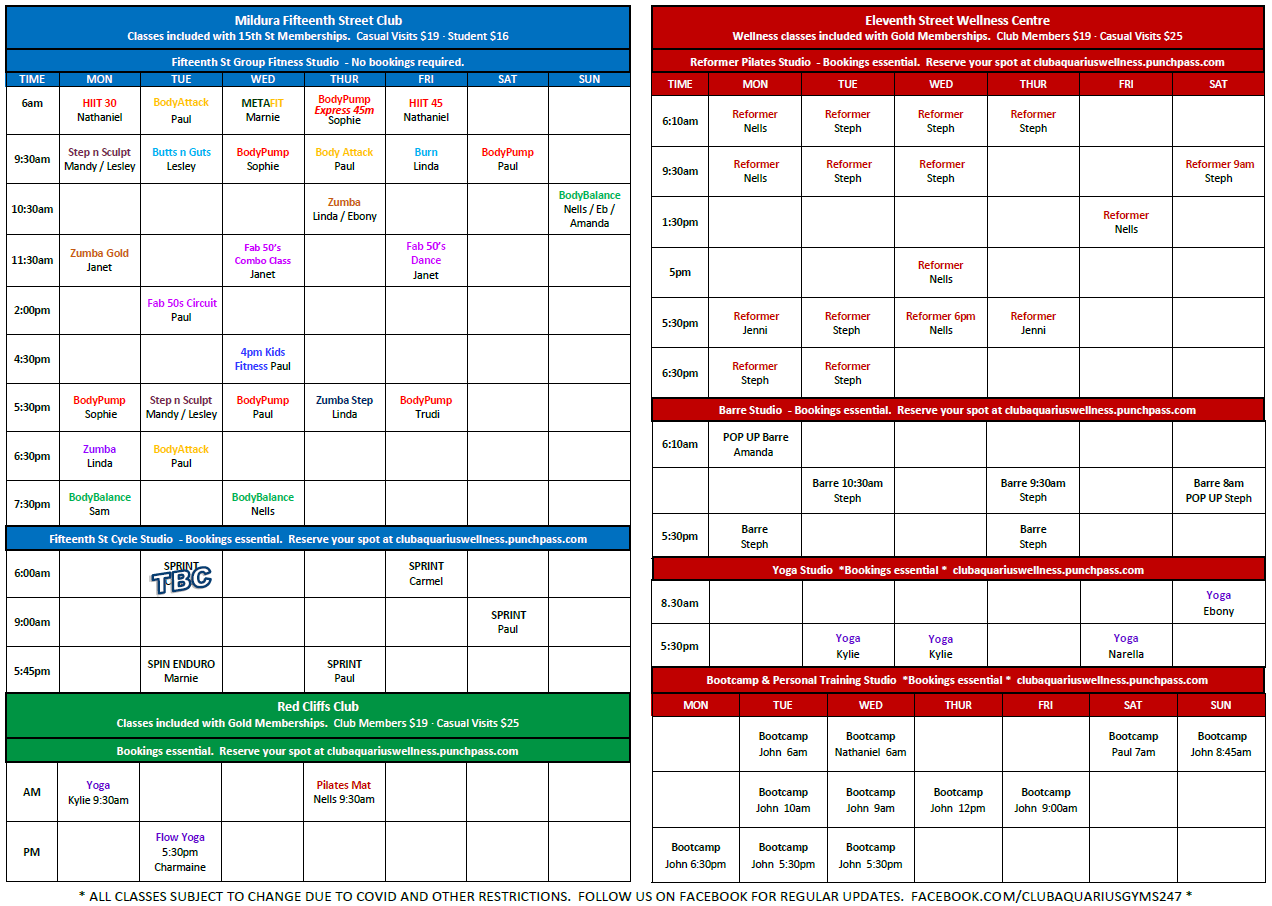 ✨✨ Welcome to the New Home of Yoga in Mildura✨✨

With that said we would love to welcome these two very accomplished yoga masters. 🤗🤗🧘🧘

With over 1500 hrs of training between Sarah & Jo we are excited to bring our members both existing and new the benefits, passion and total belief of yoga🙏🏼🙏🏼

Have a look at our new yoga classes, our yoga styles and practices, your sure to be impressed🥰

With much more info to follow please take a look at our new timetable starting tomorrow👏👏

Call the club on 50232280 or book now at clubaquariuswellness.punchpass.com ... See MoreSee Less
22 hours ago
Jessica Harcoan Rache Harcoan
Beautiful souls! 🥰 so lovely having you both join our team!